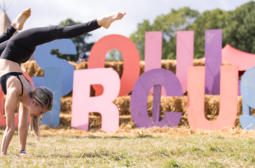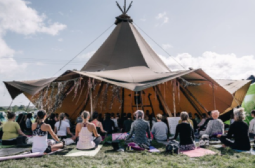 2 Lazy Bird Tickets, Cotswolds
---
SOUL CIRCUS 2022
UNITED KINGDOM · 19 – 21 AUGUST 2022
Escape to the circus where wellbeing meets music at this holistic yoga and arts festival set in the rural Cotswolds countryside. Soul Circus is a wellbeing festival where music, yoga and holistic therapies meets glittery festival antics and DJ after parties. It is set to return to it's beautiful home in the Cotswold hills of Elmore, Gloucestershire in 2022. Stretch out in yoga tipis and lush countryside by day and dance under the stars by night.
Masters of yoga host sunrise sessions, DJ Yoga classes with the Cuban brothers and DJ Yoda, aerial classes, SUP sessions and mindfulness workshops by day. At night DJ's set the skies alight with thrilling shows and exhilarating music. Rethink festival food with a menu of locally sourced and nutritious produce in the renowned soul cafe. Then open the champagne and admire the festival's stunning surroundings from your lakeside jacuzzi.
Headline music acts include Mike Skinner (The Streets), The Cuban Brothers, DJ Yoda, Duke + Many more with afterparties until 2am every night. Headline sets nightly from our main stage including headline act Sunday at 7pm for sun down cocktails
Yoga Headliners include: Michael James Wong, Stewart Gilchrist, Maude Hirst, Kathy Ran, Keeley Dann, Ambra Vallo, Michael Eley + many more
Weekend tickets give you access to all content including evening entertainment and Thursday night comedy festival. Arrive from 5pm Thursday night in time for the comedy festival which starts at 7pm, through to Monday morning at 9am.
Date/Times: 18th – 21st August 2022
Camp & Glamping check in from 18th August: 1700 18th August – 2300 21st August
Each weekend ticket includes bring your own tent or camper van at no extra cost for 2022
LAZY BIRD TICKETS (WEEKEND TICKET)
Includes all classes and workshops but excludes aerial, pole, SUP, and other programmes as announced
You will receive your e-ticket in August! Your ticket provides access to the following:
– All classes and workshops (over 250 sessions across 12 venues)
– All music entertainment (over 30 hours of live music over two stages)
– A pitch to bring your own tent or campervan (no hook ups available)
– Car parking spaces are limited and are strictly on a first come first serve basis
– toilets onsite
"Hollow Farm" Elmore, Gloucestershire. GL2 3SG
---