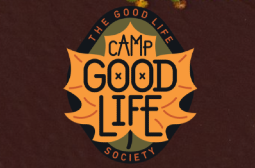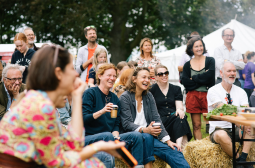 2 x Festival Day Tickets, Harwarden
Donated by The Good Life Society
---
Camp Good Life
Harwarden, North Wales
Saturday 17th September 2022
Under 1000 guests
The small festival of music, food, fire & ideas
These tickets are only valid for the day and do not include any overnight accommodation.
Please note that all under 18s must be accompanied by an adult.
These tickets give you access to the festival from: 10am Saturday 17th September
Think bonfires, harvest, mellow mist, apples, lingering wood smoke, foraging, strong booze and giant feasts. Camp Good Life (Autumn) will be geared specifically towards this most mellow time of year in Britain. It'll be the last hurrah of the summer and the first big party of the rest of the year. This will be a very British Thanksgiving.
MUSIC
Cherry Ghost • OneDa • MADMADMAD • H.Hawkline • Band Pres Llareggub
CHEFS
Gill Meller • Olia Hercules • Flora Shedden
FEASTS
Xanthe Gladstone and Damian Clisby
TALKS + READINGS
Richard King: Brittle with Relics – A History of Wales 1962-1997 • Ted Kessler: Paper Cuts – How I Destroyed The British Music Press • Jude Rogers: The Sound of Being Human – How Music Shapes our Lives • Welsh (Plural): Essays on the Future of Wales • Ali Millar: The Last Days – A Memoir of Faith, Desire and Freedom • The Stone Club (Plus guest Rhys Mwyn) • Poet: Luke Thompson
LATE NIGHT DJs
Kath McDermott • Heavenly Jukebox
MC
Emma Warren
---