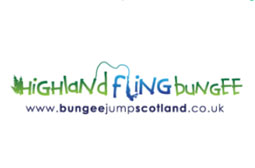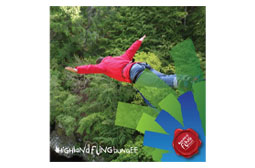 Bridge Swing, Killiecrankie
Donated by Highland Fling
---
THIS IS AN ADDITIONAL GIFT
The latest development from Highland Fling Bungee is the bridge swing at the Garry bridge in Killiecrankie, the same Highland Perthshire location where our bungee jump is based.
The brains behind Highland Fling Bungee wanted the jumper to form a connection with an inspiring landscape through adventure and exhilaration.
Like our bungee platform this is the first purpose built, permanent swing platform from a bridge in Britain.
Another first for Scotland from Highland Fling!
What is it?  The Highland Fling bridge swing offers a bridge swing experience from a specially designed swing platform 40 metres above the River Garry. Rigged in a full body harness we quick release you from above, dropping into a free fall of around 15 metres before the rope takes the slack and you accelerate through an arc under the bungee platform where the main anchors are attached. Once the swing is over we winch you back to where you started. A safe and unforgettable adrenalin packed experience using the latest technology and safety equipment, led by experienced, qualified Bridge Swing Masters.
Where is it?  The UK's first permanent bridge swing takes place near the famous site of the Battle of Killiecrankie. A specially constructed swing platform is suspended below the Garry Bridge over the beautiful River Garry near Pitlochry in Highland Perthshire, Scotland. It is perched above a dramatic gorge surrounded by ancient trees. The site is operated from the visitor centre in Killiecrankie.
Who does it?  Free-Spirits, thrill seekers, outdoor enthusiasts, sports enthusiasts, adrenaline-lovers, taxi drivers, accountants, landscape gardeners, astronauts, plumbers. Get the idea? That's right: anyone from age 10 to 110 with a sense of fun and adventure.
How Do You Do It? Find a date that's available and book. You can book online now, using the button at the bottom of this page. After that, get yourself to the location on the day and put yourself in the hands of the Highland Fling bridge swing experts and enjoy.
When Do You Do It?  Highland Fling bridge swing is the only experience of its kind in the UK that is open all year round. Check our Booking Page for Swing times.
Why Do It?  Because you are alive. Because it's there. Because you can.
---