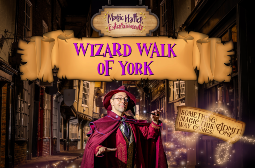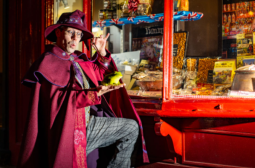 Family ticket The Wizard Walk of York
Donated by The Wizard Of York
---
You will receive Four tickets (2 adults & 2 children) to The Wizard Walk of York, a wondrously whimsical walking tour starting from The Shambles. Join The Wizard of York on a search for magical creatures in this enchanting city. Five-star family fun, comedy, magic and a dash of York's history!
Ideal for ages 5-10 in particular, or bigger kids with a silly sense of humour and a passion for the wizarding world. A spellbinding tour that wizard fans will go Potty for!
Also included in this gift are two Wizard Wand Kits (subject to availability) Each kit includes a handcrafted wooden wizard wand and instructions for seven magical tricks, that young witches and wizards can learn at home.
A 1-hour outdoor tour starting at The Shambles in York. We wander the alleys and snickelways and take in sights such as Mad Alice Lane, York Minster, St William's College and Bedern.
For more details visit www.wizardwalkofyork.com or follow at www.facebook.com/wizardwalkofyork and www.instagram.com/wizardwalkofyork and www.twitter.com/wizardwalkyork
If your family is a slightly different size please do let us know and we can see what we can do!
---