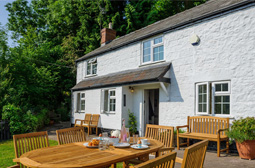 GIFT ON HOLD DO NOT APPLY
---
PLEASE DO NOT CONTACT EITHER THE COTTAGE OWNER OR THE COTTAGE RENTAL COMPANY ABOUT THIS GIFT – DOING SO WILL MAKE YOU INELIGIBLE TO RECEIVE THIS GIFT
We are currently looking for a couple or family who can visit Bluebell cottage for a long weekend or mid-week break from November – Feb. Dates will depend on availability.
This is a beautiful cottage with a bird's eye view across the Wye Valley: perfect as a base for a family and its manifold needs, but a delightful escape for a couple, too. It is set in the village of Symonds Yat West, but nicely elevated to give a sense of privacy. The area has myriad things for families and children to do, from canoeing on the river and other varied outdoor activities to brilliant riverside walks and cycles or gentle sight-seeing. There are fun things close by like the getting lost in the maze at the Hedge Puzzle, or dodging exotic butterflies at The Butterfly Zoo. Sleeps 2 to 6 adults, plus 2 children, an infant, and up to 2 well-behaved dogs.
You can find out more about the cottage by clicking on the link to the donors website to the left.
This gift will be available on a monthly basis until February and is available from Monday – Friday, Friday to Monday or for a whole week subject to availability.
A cleaning cost must be covered by the gift recipient of £40 & £10 for each bedroom room used.
This cottage is not suitable for people with mobility issues!
---