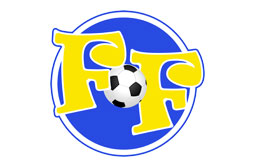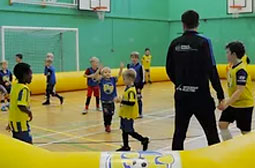 Children's football fun camps, Cambridgeshire
Donated by The Football Fun Factory
---
Suitable for children aged 5 – 12.
Your child will take part in an unforgettable football experience under the guidance of our superstar Head Coach and their team.
Experience half-term like never before!
Dive around on our huge Inflatable Goal!
Test your accuracy on our Dartboard!
Play inside our Inflatable pitch!
We are offering places on a The Football Fun Factory Football camps in a variety of locations throughout Cambridgeshire.
These experiences are for children living with a cancer diagnosis or children who's parents / direct family members are affected by cancer.
You can book your child or children in for one day to a whole week – it's entirely up to you!
Chose from the following locations and dates:
Dave Caicedo
Christmas: 
Sawston Sports Centre, Monday 20th to Thursday 23rd December
February half-term: 
Sawston Sports Centre, Monday 14th to Wednesday 16th
Chris Harris
Christmas: 
Cambridge Regional College, Monday 20th to Thursday 23rd December
February half-term: 
TBC
Kiefer Driscoll
Christmas:
Longsands Academy, St Neots, Monday 20th to Tuesday 21st December
Cambourne Village College, Wednesday 22nd to Thursday 23rd December
February half term: 
Longsands Academy, St Neots, Tuesday 15th to Wednesday 16th
Cambourne Village College, Thursday 17th to Friday 18th
Lee Hayward
February Half term: 
St Ives Indoor Centre: Monday 14th to Friday 18th
Glenn Sullivan
Christmas:
Melbourn Village College, Monday 20th to Thursday 23rd December
February half term: 
Joyce Frankland Academy, Saffron Walden, Monday 14th to Wed 16th
Bassingbourn Village College, Thursday 17th to Friday 18th
Nathan Mitchell
Christmas: 
Cottenham Sports Centre, Monday 20th to Tuesday 21st December
Littleport Leisure Centre, Wednesday 22nd to Thursday 23rd December
February half term: 
Cottenham Sports Centre, Monday 14th to Wednesday 16th
Littleport Leisure Centre, Thursday 17th to Friday 18th
Kiel Waterfield-Jenkins
Mildenhall Hub Leisure Centre, Monday 20th to Tuesday 21st December
Ross Peers Sports Centre, Soham, Wednesday 22nd to Thursday 23rd
February half term: 
TBC
Matt Foy
Christmas: 
Cromwell Community College, Chatteris, Monday 20th to Thursday 23rd December
February half term: 
Chatteris (Venue TBC) Monday 14th to Wednesday 16th
Neale Wade Academy, March, Thursday 17th to Friday 18th
Jordan Collins
Christmas: 
Huntingdon (venue TBC) Wednesday 22nd to Thursday 23rd December
February half term: 
TBC
---