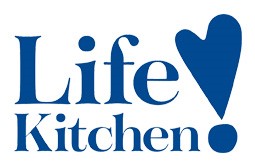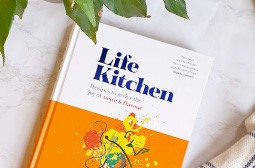 Life Kitchen Class (North East residents 2nd March)
---
North East includes Sunderland, County & Surrounding Areas.
Life Kitchen is a not-for-profit cookery school for people with cancer, focused on taste and flavour. It is run by co-founders Ryan Riley, author, cook and food stylist, and Kimberley Duke, recipe developer, trained chef and food stylist.
During chemotherapy, radiation and other cancer treatment, a lot of patients lose or experience changes to their sense of taste. This is a really difficult side effect that can make mealtimes difficult and isolating. We're here to change that.
Both Ryan and Kim were inspired to launch Life Kitchen after losing parents to cancer. Throughout Ryan's mum Krista's two-year battle with cancer, Ryan saw how chemotherapy was affecting her ability to taste and experience food.
After her death, he wanted to honour his mother's memory and use his cooking skills to help cancer patients find flavour and pleasure in food again. And so, Life Kitchen was born.
Life Kitchen is backed by science. We are advised by Professor Barry Smith, the founder of the Centre for Study of the Senses. Professor Smith guides the Life Kitchen team on our recipes and ingredients so that people living with an altered sense of taste get enjoyment out of food.
During February & March we are providing classes for people who live in the following areas: Tyne and Wear, County Durham, Sunderland, Suffolk, Norfolk and Cambridgeshire. We will release further dates for different areas in due course,
The classes are free and will last roughly 1 hour and 30 minutes and have a maximum of ten people, you can choose whether or not you want to chat amongst the group or just dive straight into the cooking, you can ask your teacher questions at any time.
During the class we will show you how to cook 3 easy, delicious dishes specifically created to help with taste and flavour loss due to any form of cancer treatment.
This month we are teaching pineapple tacos, soft scrambled eggs with zaatar and green chutney and maple brûlée pears . During the class we will be teaching you about our five principles of taste and flavour, and the science of what makes food delicious.
What you need to take part in the class:
A stable internet connection
The ingredients (we will send you the recipes and a voucher to cover the costs through the post.)
A kitchen for you to set up your laptop or phone in and cook along.
Yourself!
Every participant receives a free box from World Cancer Research Fund
Containing 1 £15.00 food shopping e-voucher to cover the cost of ingredients will be emailed to you using the email address you provided.
The pack contains everything you'll need to prepare for your class and also has further resources for anyone living with and beyond cancer.
In it you'll find:
– A Ryan Riley recipe booklet – the recipes for your cookery class will be in this.
– Sensory item – We'll be using nose plugs- there will be a demonstration on this during the class.
– An Eat Well During Cancer booklet which aims to help with the management of many side effects associated with cancer and cancer treatment.
---