Message from the Trustee's of 'Something To Look Forward To'
It is with great sadness that we have to announce our founder Fiona Coldron passed away on Thursday 18th February, 2021, peacefully and surrounded by her family.
Fiona, who having first-hand experience of living with cancer since 2007, knew the importance of having 'Something To Look Forward to' and together with her family made it her life's mission to help others.
We know it was her wish for us to continue the charity and Fiona's daughter and husband will spearhead this in Fiona's memory.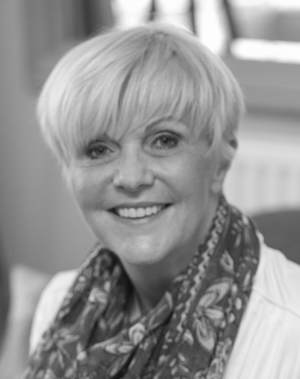 Fiona Coldron BCA
Founding Director

Staff
The Executive Directors of 'Something To Look Forward To' are responsible for the strategic development, effective management, and ensuring long term sustainability of the charity.
Dr Rosena Allin-Khan MP is the Member of Parliament for Tooting, South West London and the Shadow Minister for Digital, Culture, Media and Sport. Dr Allin-Khan studied Medicine at Cambridge University; then worked at the Royal London and Hommerton Hospitals post qualification. She went on to complete a Master's degree in Public Health specialising in Global Health and Emergency Humanitarian Assistance. Following this, she spent many years working as a Humanitarian Aid Doctor in the Middle East, Asia and Africa. She also worked in rural Australia as an emergency flying doctor. Prior to her election, she worked as a junior doctor in the Accident and Emergency Department at St Georges Hospital in Tooting.
Dr Allin-Khan regards the work of 'Something To Look Forward To' as vital in improving outcomes for families affected by cancer poverty in the UK and was honoured to become our Patron in October 2017.
Dr Allin-Khan supports us in publicising the issue of cancer poverty and the importance of improved emotional health amongst cancer patients and their families. She also donates private tours of the Houses or Parliament – a once in a lifetime experience! We are honoured to have her as the Patron of our charity.

Board of Trustees
The Trustees of 'Something To Look Forward To' are responsible for ensuring the purposes of the charity are observed. They oversee the strategic planning and finances and ultimately what the charity wants to achieve long term
Social Media Ambassadors
We are proud to be supported by a range of brands, influencers and bloggers who have been instrumental in helping us source gifts, experiences, and essential items for those affected by cancer.
Cat Sims aka @notsosmugnow is an Instagram blogger covering the world of patenting, adulthood, relationships and mental health.
Cat created the #GiftMatch campaign which involves her only accepting gifts from brands if they donate the same or similar item to charity and we are honoured to be one of the recipients!
"There's no denying it: influencer marketing works. It's a win for the brand and the influencer but here's the thing….Isn't it possible to do more? To do some good? I founded the #GIFTMATCH campaign to turn a win-win situation into win-win-win because I wanted charities to benefit too".
Cat Sims

Darren lives in Northamptonshire and works full time as a Manager of a national builders merchant. He created 'Days Out Now' in 2017 to help families find fun days out. Now, he's helping us, help those affected with cancer by sourcing family activities across the UK.
Darren is married with three children. Having personally seen the impact cancer has emotionally and physically on loved ones, he really wanted to make a difference and chose to help our charity.

Volunteers and Advisors
'Something To Look Forward To'  is supported by a board of volunteers and advisors who provide advice and help in a variety of areas. This voluntary help is crucial to the running of the charity.