This charity is delivered by ONE family affected by cancer to improve the lives of THOUSANDS of other families across the UK

Thanks to all our wonderful gift donors, funders and fundraisers, in four years we have been able to donate:
Value of gifts and experiences donated to families affected by cancer

For people affected by cancer
A charity website for people with cancer and their families to access a variety of gifts generously donated by people and companies.
Find anything from restaurant meals, hotel stays, beauty treatments, tickets for events and attractions…

"We can't wait to hear about your next events. Thank you for everything you do to help people with cancer; we always hear such lovely things about your days out from our members"
(Shine Cancer Support)

A big thank you to our most recent gift donors
Latest News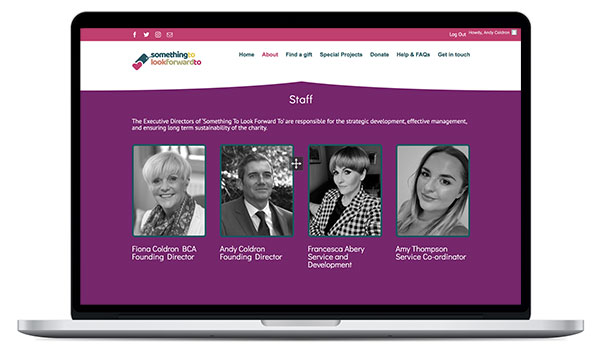 Job Vacancy: Fundraising Manager, Cambridge
We are recruiting a passionate and dynamic Fundraising Manager to join our small, family run cancer charity 'Something To Look Forward To'.



'Something To Look Forward To' are now providing people affected by 'cancer poverty' with essential donated items including clothes, shoes, toiletries, towels and bedding to offset the severe financial impact of their cancer diagnosis.
Already we have received incredible donations from the following businesses which have been distributed to our partner agencies.

Let's get social