When your world has been turned upside down, every little bit of kindness helps to get you through. Every moment spent with loved ones. Every gift. Every bit of support; financial or emotional.
Become a Memory Maker today for as little as £2 a month and receive STLFT goodies and exclusive updates. Support us with a donation that will go three times as far thanks to our incredible partners who allow us to provide gifts and experiences worth three times the service delivery costs
Your compassion and generosity will ensure that families affected by cancer across the UK can be supported with gifts and experiences. You can provide 'Something To Look Forward To' for those who need it most.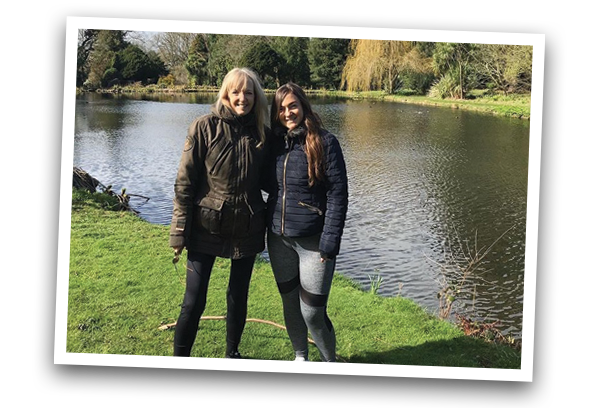 Lucy, who was diagnosed with bowel cancer at age 31, says she isn't sure she would have made it through treatment without Something To Look Forward To.
"The support, kindness and care you've given me is like nothing I've experienced in my life."
You can make sure someone like Lucy is supported throughout their cancer diagnosis and beyond. We have just launched our Memory Makers programme with the aim of supporting at least 5000 people affected by cancer in the next year.
Why we need you!
1 in 3 people with cancer will suffer a mental health problem during or after treatment
91% of cancer patients suffer a loss of income, causing additional stress and mental health issues
Nearly 50% find the emotional effects of cancer harder than the physical effects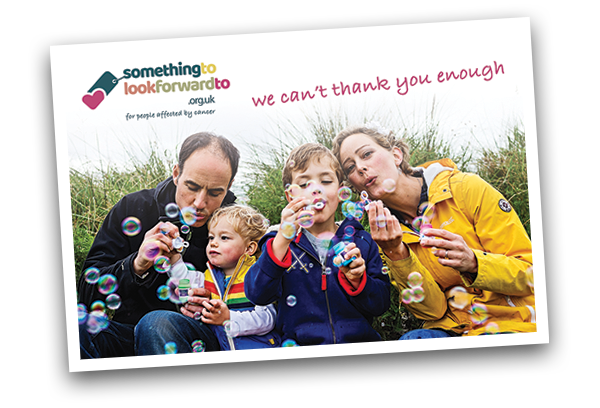 What others have to say
"I like giving to this small charity because I know my money goes directly to helping people with cancer. There's nothing better than knowing that what I give could help a family to go on holiday and make some really important memories."
The value of gifts we have provided since 2015
Number of people we have provided with gifts between 2015 and 2022
of our service users report significant positive changes in wellbeing
Average increase in wellbeing of our service users

A donation to 'Something To Look Forward To' goes directly to those most affected by cancer and cancer poverty.
Cancer and cancer poverty can have a major impact on emotional and mental health issues – all of which can affect how long it takes for a patient to recover. You can help ease that strain, to help those with cancer to focus on wellbeing and family relationships rather than the everyday strain of living with cancer. Your gift will transform lives and improve wellbeing, so give someone 'Something To Look Forward To' today.