Our aim
To promote the well-being, relieve the stress and aid the recuperation of those who are experiencing the effects of cancer and its treatment, together with their families. In particular by the provision of positive individual and/or family experiences.
Our objective
To provide a comprehensive website where people with cancer and their families can access a variety of free 'gifts' donated by companies and individuals.
These include free breaks in holiday cottages; restaurant meals; a day at the races; hotel stays; theatre tickets; beauty treatments; tickets for attractions… the list is endless.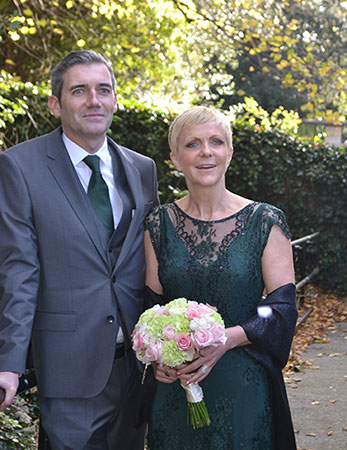 Andy and Fiona Coldron are the Founding Directors of 'Something To Look Forward To'.
In April 2007 Fiona, who at the time was a single Mother of two was made redundant but was lucky enough to find a new job by June of that year. However, only a week after being offered the job, she was diagnosed with breast cancer and was only eligible for statutory sick pay with her new employer, which was not sufficient to support her family. The thought of having to work in a new job during surgery and treatment was extremely daunting. As a single mother of two teenagers, she presumed there would be financial support for her out there somewhere. However, she shocked to discover that this was not the case and was therefore forced to work to support her family whilst going through a very traumatic time.
During and following surgery and treatment, Andy and Fiona found that small treats such as a meal out, a night in a hotel or a day out with the family was something that gave them both 'Something To Look Forward To'. It provided some brief respite from the relentless slog of the hospital environment. They came to realise that experiences with loved ones was the most important thing. It gave a great sense of wellbeing and helped in the recovery process for them both.
By 2010, Andy and Fiona had set up home together but in 2013, Fiona was diagnosed with secondary breast cancer which had spread elsewhere. Fiona now receives ongoing treatment for this incurable but treatable condition. Again, Andy and Fiona found the little treats in life gave them 'Something To Look Forward To' in the darker periods of their life together. However, they had also come to realise how often people are affected financially by cancer and could not afford these things at a time when they were needed most. This is known as 'cancer poverty'.
In 2015 they took the decision to start the process of launching 'Something To Look Forward To' as a registered charity and not for profit company limited by guarantee.
'Something To Look Forward To' became operational in February 2016 and Fiona and Andy were soon joined by Fiona's daughter Francesca – a real family affair! Together, they grew their portfolio of gifts and experiences and began delivering their service in Cambridgeshire. As things developed, the service branched out formally to Surrey, Bedfordshire, Milton Keynes and Suffolk. The service then became national as Something To Look Forward To supported people living with cancer anywhere in the UK. They grew their staff and volunteer team and now deliver various projects to improve the lives of those affected by cancer poverty.
2015 – Became a registered charity
2016 – Became operational
Provided £15,448 worth of gifts and experiences to 371 people
2017 – Fiona was Honoured with a British Citizen Award
Provided £60,614 worth of gifts and experiences to 1557 people
2018 – Fiona received the National Lottery Special Achievement Award & The Prime Ministers Points Of Light Award
Provided £149,020 worth of gifts and experiences to 3730 people
2019 – Became Tri Sudbury's official charity partner and raised over £11,000
Provided £188,000 worth of gifts and experiences to 4300 people
2020 – Adapted our services in response to the Covid-19 Pandemic
Provided £183,559 worth of gifts and experiences to 2748 people
2021 – Won the Lloyds Market Charity Award