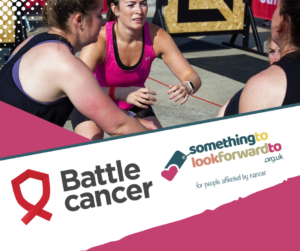 Battle Cancer Events 2022
Our next fitness fundraising challenge! Enlist your team, set yourself a goal and take part in an epic day. Battle Cancer competitions present a unique team-based experience for people looking to make a difference and kick cancer to the dust! Buy your ticket now or spread the cost with their deposit scheme.
Accessible Movements
Everyone can do it. They program five pumping workouts made up of creative movements using simple equipment. Think sports day. But for adults.
Workouts may also include bodyweight, CV machines such as rowers, ski ergs, and bikes, as well as other equipment but will not exceed the weights above. Heavier kit such as sandbags may be used but workouts will allow athletes to work together to lift them.
The Physical Challenge 
Your team of four will take on four 9-minute functional fitness workouts incorporating teamwork, high-intensity cardio, FUN-ctional fitness, and accessible weights.
Weight standards for men/women:
Bumper plate – 20kg/10kg
Dumbbell – 20kg/12.5kg
Kettlebell – 20kg/12kg​

Fundraising:
Sign up your team and choose to support 'Something To Look Forward To.' Receive your fundraising pack with ideas of how to fundraise and donate directly to your charity. Screenshot your fundraising total and submit your figure at registration on event day. Get ranked on the Battle Cancer leaderboard! The more you raise, the higher you'll place.
We will offer you full fundraising support including your own personalised online fundraising page and charity merch!
Locations & Dates:
London – Sunday 16th October 8am-6pm
​Edinburgh – Saturday 18th June 8am-6pm
Manchester – Saturday 6th August 8am-6pm
Entry Requirements and fee:
Teams of 4 range from £220 – £290 depending on venue.
Buy your ticket now or spread the cost with their deposit scheme.
Up for the challenge?
If you are interested and think you would like to get a team together then please get in touch.
This form is not your full commitment… it just gives us the chance to contact you and have a chat about it all.
Latest news