In memory of James Naughton
12th February 1987 – 25th August 2004
When James sadly passed away in 2004 myself, family and friends, all wanted to do something to raise money to in some way help other families who were affected by cancer.
We set up 'The James Naughton Foundation' and began raising money and being donated gifts to pass on to families of young people affected by cancer.
Unfortunately, due to the pressures of work and life, we were unable to invest the time and energy needed to make our mission a sustainable project.
In 2014, on the 10th anniversary of James' passing, we heard about 'Something To Look Forward To' and decided we wanted to help.
Using our network of friends and family we continue to fundraise and source gifts for this wonderful charity and are delighted to helped establish 'Project Surrey' in memory of
I have now altered my plans with the funds I have raised, and I am keeping very busy with my plans as to what the money will be used for. I am going to contact all the large supermarket chains around the hospital requesting the possibility of them donating discount vouchers for parents who's children are on the Teenage Cancer Trust Unit. I am going to all the local restaurants, and cafe's and exchanging the funds I have raised for tokens so a family can go out and have a meal, or even a cup of coffee as there are so many families on the ward that are so less fortunate than us, and cannot afford to go out for a meal, and have to survive on hospital food. I am doing the same with MacDonalds, Burger King etc. I am also going to contact hotel chains around the hospital in the possibility that if they are under booked they might be willing to offer a free room to parents for a night, so the parents can have a comfortable night with a little bit of pampering for themselves.
I feel there is so much I can do to make so many people's life so much more bearable. My aim is to collect everything into a pack and it will be given to families on admission to the Teenage Cancer Trust Unit. It will be called something like 'The James Naughton TCTU Kit' I am also approaching Marks & Spencer and Boots for vouchers, as yet once again, with some parents who might have thought they were only going to be on the ward for a day, it could turn into a week, and once again some parents have not got the money to be able to buy essential toiletries, underwear, nightwear etc.
We have now established an official trust fund for James.
Please make any donations payable to: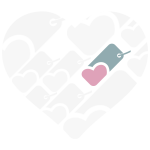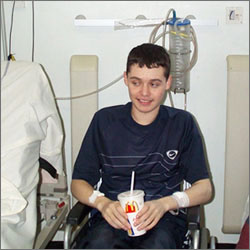 Press
Brentford, Twickenham & Chiswick Times – 3/9/04
Teen's Final Cancer Battle
A TEENAGER with a rare cancer, who started his own fund for cancer patients and their families, died last week.
James Naughton, 17, of York Road, Brentford, passed away in the night at the Middlesex Teenage Cancer Trust Unit, where he had stayed since February.
James had just left Gunnersbury RC School, and was planning to undertake an electrician apprenticeship, when he was diagnosed with Ewing's sarcoma in January.
Ewing's sarcoma is a rare type of bone cancer usually found in children and young adults and it affected James' spinal cord, leaving him paralysed from the waist down.
However James never let his condition affect his personality, and he determined to fight to raise money for his fellow cancer patients and their families.
His selfless attitude was demonstrated by his desire to help the families of other patients who were "less fortunate" than his own.
He arranged numerous projects for fundraising, including supermarket, shop and restaurant vouchers, so that the parents of patients could get out of the hospital and have a decent meal. He even investigated the possibility of contacting hotel chains in the area to see if they would be willing to offer unbooked rooms to parents for a night. Raffles and auctions of signed sports goods were also organised.
On his website James commented: "I feel there is so much I can do to make so many people's life so much more bearable." He aimed to make a pack for new patients and their families on admission to the Teenage Cancer Trust Unit.
James had great support throughout his illness from his own friends and family. Chris Wilford undertook a Birthday Card Appeal, Alan Garrett ran the London Marathon, and Valarie Moore and her daughters, Abbie, 12, and Rebecca, 15, did a sponsored swim of 200 lengths. Another friend, Beryl St Martin, donated £1 of every order from her flower shop to the Fund.
James' parents and sister Emma worked tirelessly with him to help with his fundraising. His mother Fran emphasised how, despite the seriousness of his condition, James never lost his sense of humour. She said: "James was born on 12 Feb 1987 without any fuss, which was an attribute which he carried throughout his life.
"We can be confident in saying that everyone will remember him for his lovely smile, sense of humour, politeness and loyalty. Individually, his mates have said that no-one had a bad work to say about James. Life was too short, the battle too long. To the end he showed courage, bravery and dignity and he never lost his sense of humour."
There was a blessing last night at 7.00pm in the St. Peter & St. Paul R.C. Church in Camborne Avenue, London. There will be a mass this morning at 9.30am, and then at 11.30am the cremation will be held at Mortlake Crematorium.
There follows a reception at The New England Bar & Restaurant, York Road, Brentford. Those wishing to send flowers please contact Flowers etc. on 020 8575 8095, and donations to the James Naughton Fund can be sent to Windmill Studios, 49-51 York Road, Brentford, Middlesex, TW8 0QP.
Details can be found on the website www.jamesnaughton.co.uk


Giving in memory is a poignant way to celebrate the life of someone special. There are many ways to give in memory:
You can make a one off or regular donation to our charity
Set up an online tribute page for friends and family to donate and leave personalised tributes
Collect funeral donations or request or request donations in lieu of flowers. We can provide you with collection tins to help you collect donations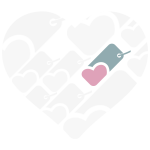 Thank you for all the 'gift donations' in memory of Charles Jagoe Cupper from his close friends and family in lieu of flowers at his funeral.


Charles Jagoe Cupper was Fiona's father and Francesca's grandfather and will be missed by them dearly. Instead of flowers at his funeral, Charles asked for donation's to be made to his daughters charity ' Something To Look Forward To' instead. Thank you to everyone who donated, we can now triple your £350 donations into over £1050 worth of gifts and experiences for families affected by cancer.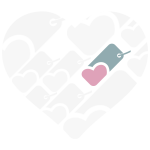 A 'Gift Donation' in loving honour of Viv, and with Bob and Sam in our hearts.
Please accept our deepest condolences during this sad time.
Love from Michael, Nicola, Marley and Bellamy.


My name is Nina and when my best friend's mother Valerie passed away from cancer, I felt helpless and did not know what to say or do. I decided I wanted to give something back to other families affected by cancer so I made a donation to 'Something To Look Forward To' in memory of Valerie.
I donated £50 so a family in need could experience a meal out together, tickets to a theme park or a break away. I felt immediately that this would have made Valerie feel proud. I was able to leave a special message which will be placed on the wall of memories on the website and the charity notified my best friend and her family personally of my donation. I am so pleased I chose 'Something To Look Forward To' which is very different and far more personalised than some of the large pharmaceutical and heavily branded charities.
My best friend loved my 'Gift in Memory' and said Valerie would have done too.