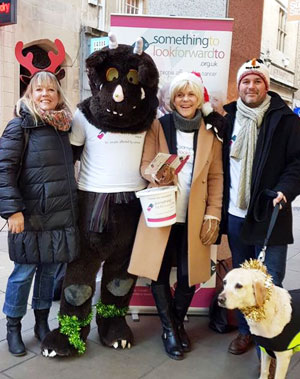 Fundraiser: David Lloyd Badminton Friends
Date of the event: December 2017
Gruffalo 'bucket collection' day
A huge thank you to Suzie, Chris, Jurgen & Keely for their sterling effort on Saturday. Braving the cold outside Cambridge's Lion Yard for 5 hours shaking those buckets and raising a whopping £465 for the charity.
Special thanks to the Gruffalo for coming along and giving so many hugs and posing for hundreds of selfies with little children… and teenagers… and adults!

You could give people 'Something to look forward to' by doing your own sponsored event.
We can support you by setting up an online fundraising page and will offer you advice regarding promotion of your event.
We can also supply a fundraising pack including a T-Shirt and marketing material. Thank you in advance!