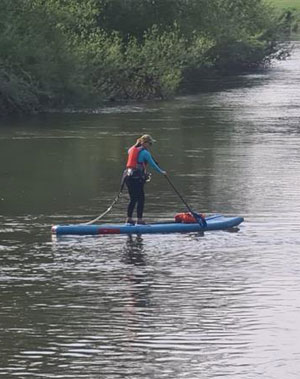 Fundraiser: Victoria and Pete's 70 mile SUP Board Challenge
Date of the event: 1st June 2022
On Wednesday 1st June at 11pm I will set off with Pete AKA Smurf (the only person I know crazy enough to do this with me) from Hay on Wye to embark on a nonstop 70 mile stand up paddleboard challenge through the night down the River Wye, finishing in Symonds Yat on Thursday 2nd June around 4pm. Our target is to complete this in 18 hours. Just to put it in perspective, most people take 4 days from Hay on Wye to Symonds Yat…… oh and James Haskell covered 30 miles in 2 days last year for his SUP board challenge. Sorry James. 😬
I lost my Dad 15 years ago to cancer and my amazing Mum has had cancer twice now and thankfully fully recovered. I've seen first-hand the incredible work and support from cancer charities around the UK that provide that extra help and support in the hardest of times, both as a recipient of that help and also as someone who provides the help.
This year, we're raising money for 'Something to Look Forward To'. I've been working with STLFT as a provider of gifts for some time now and can honestly say it's the most rewarding thing I have ever done. The money we will raise will go towards helping the charity to improve the quality of life for cancer patients and their families by providing gifts, experiences, and essentials, helping to relieve the financial burden associated with cancer treatment and allowing those affected to focus on rest, recuperation, wellbeing, and positive memory building.
Like last year, for every person who sponsors us, you can put forward a name and short message for someone dear to you who you have lost. Their names and messages will be written directly onto my board that I will be using for the 70 mile challenge, carrying your loved ones tributes on the journey with me. If you would also like to email me a photo to go along with the message, I'll include the photo in a short video tribute I will be producing on the run up to the event.
A huge shout out to Jamie at The Ferrie Inn and YOFI paddlesports for your support. Without you, this wouldn't be possible. ❤️