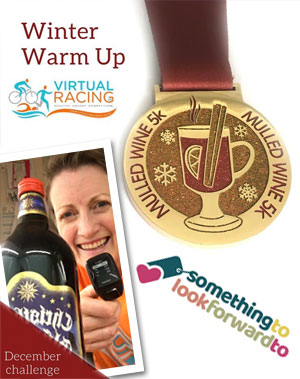 Fundraiser: Virtual Racing UK & Sarah Logan
Date of the event: December 2017
Virtual Racing UK – Mulled Wine Winter Warmer 5k
Virtual racing donated 20% of all entry fees for their Mulled Wine Winter Warmer 5K Virtual Race to our charity. The race was a sell-out complete with 'Something To Look Forward To' gift recipients taking part. Virtual Racing donated £619.20 which is fantastic. We are looking forward to being the partner charity for next year's Unicorn Race which is predicted to be very popular.
More Fundraising Legends!
You could give people 'Something to look forward to' by doing your own sponsored event.
We can support you by setting up an online fundraising page and will offer you advice regarding promotion of your event.
We can also supply a fundraising pack including a T-Shirt and marketing material. Thank you in advance!