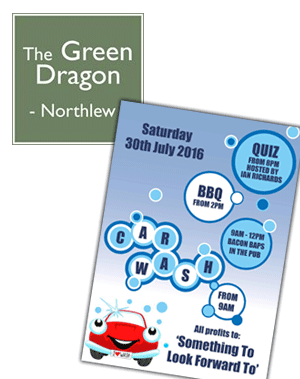 Fundraiser: The Green Dragon – Northlew
Date of the event: 08/16
Pub quiz, car wash, BBQ and clothes sale
Thanks to all at the Green Dragon, Northlew for their amazing fundraising efforts. Supporting the Marathon Walkers, pub quiz, car wash, BBQ and clothes sale.
Everyone at Something To Look Forward To is extremely grateful for all the hard work and dedication put in by everyone concerned. A tremendous fundraising effort.

You could give people 'Something to look forward to' by doing your own sponsored event.
We can support you by setting up an online fundraising page and will offer you advice regarding promotion of your event.
We can also supply a fundraising pack including a T-Shirt and marketing material. Thank you in advance!