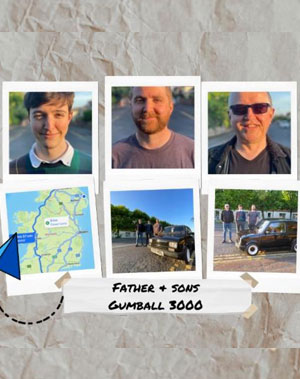 Fundraisers: Stuart, Connor and Tom
Event: Father & Sons Gumball Rally
Date of the event: 9th to 16th July, 2022
Gemma is a 1999 Polski Fiat 126, and the star of the show. Built in Poland last millennia, known as the people's car, and nicknamed 'Maluch' it is extremely small and powered by a tiny two-cylinder engine. Connor bought Gemma after spying it online whilst he was self-isolating with COVID. Connor decided life was too short not to act on rash impulses. Following a complete mechanical re-build over the last two winters, Gemma is now, finally ready for adventure.
The challenge is a homage to the gumball 3000. A 3000-mile rally on public roads, where rich and celebrity entrants drive high speed, high value supercars long distances, staying in high end hotels. Our rally will be a father and two sons driving one of the worlds least valuable cars and staying in tents.
Our no-frills rally will run from Malin head at the top of Ireland loosely following the west coast over 600km to Mizen Head at the bottom of Ireland.