Well done Ginny on completing the marathon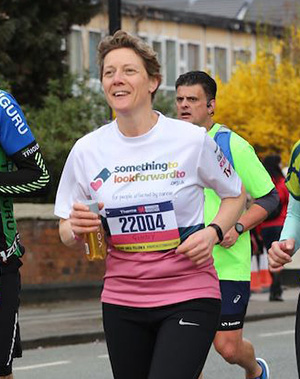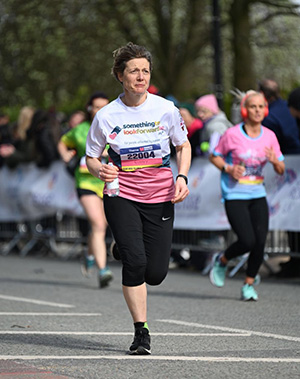 An amazing effort by Ginny completing her first (and I am sure not the last) marathon. Thanks to all Ginny's training and the wonderful support of all of her sponsors Ginny raised a staggering £1,320 pounds for our charity.
People often wonder just how much of what they raise actually does any good. We are very different to most charities. We actually increase the value of all donations made. Our accounts show that for every £100 someone raises for us we are able to give out an average of around £300 worth of gifts. So people's sponsorship money really does go a lot further.
Thanks to Ginny and her sponsors, the £1,320 raised means we will be able to give out over £3,900 worth of gifts and experiences to people affected by cancer.
Would you like to do something to raise money for our charity?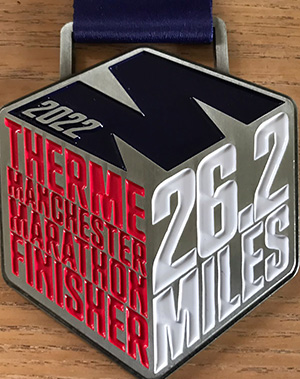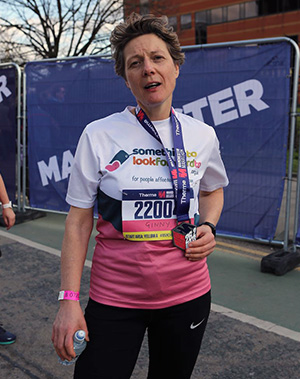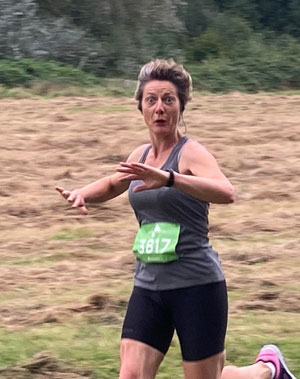 Fundraiser: Ginny
Date of the event: Sunday, 3 April 2022
Manchester Full Marathon
When I entered the Cambridge Half Marathon last year, I had no idea that the event would have two separate but connected outcomes.
Firstly, whilst running the half in Cambridge I became aware of lots of 'Something to Look Forward To' runners around me with a dedication to Fiona Coldron on the back. It had been several years since I had seen Andy and Fiona and, although I knew she had been unwell again, I was unaware that she had sadly died in February 2021.  I can remember them talking about the charity in the early days and I am completely in awe of how it has blossomed and successfully delivers much needed joy to so many people.
Secondly, I loved the half marathon experience so much it gave me the confidence to enter a whole marathon and so I am running the Manchester Marathon on 3rd April 2022 and once that decision was made I had no hesitation in deciding which good cause I wanted to support.
'Something to Look Forward To' is a small national charity that helps provide people with cancer and/or their carers with something special, be that a dinner, an evening away, paragliding or racing a car. Whatever it is, it might provide a bit of fun for people suffering or for those supporting and caring for them.
So, I would be really grateful if you are able to support this inspirational charity's work and give me an added incentive to get round those 26.2 Mancunian miles.