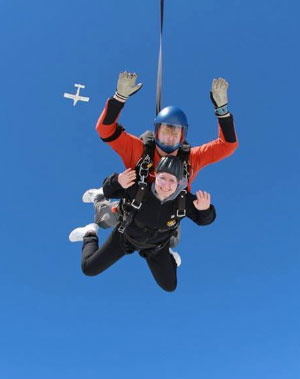 Fundraiser: Becca Doherty
Date of the event: 06/17
Tandem Skydive
Becca is a bit of thrill seeker and loves a good roller coaster! She had always thought that doing a skydive was a huge achievement as it takes serious guts to jump out of a plane; especially as she is a bit scared of heights! Becca did a skydive for 'Something to look Forward To', a charity that is very close to her heart. She thought the charity was a unique service supporting families who are affected financially by their cancer diagnosis.
More Fundraising Legends!
You could give people 'Something to look forward to' by doing your own sponsored event.
We can support you by setting up an online fundraising page and will offer you advice regarding promotion of your event.
We can also supply a fundraising pack including a T-Shirt and marketing material. Thank you in advance!