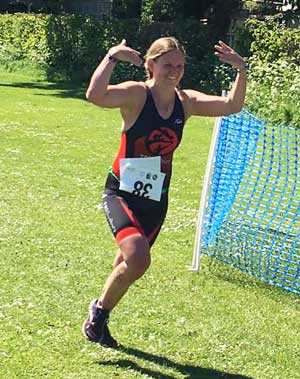 Fundraiser: Farley Boxall
Date of the event: 9th June 2019
TRISudbury SPRINT DISTANCE Triathlon
I first completed the Sudbury Triathlon in 2017 in 1:33:54, since then the run route has changed slightly to add a hill and now includes speed bumps on the cycle route……however, I will be aiming for a PB and already have a donation of £1 for each minute I knock off my previous time!
As a member of TRISudbury I am incredibly proud we ave chosen to help Something to Look Forward to with Project Suffolk and to raise money for such an awesome cause. Experiences are wonderful memories for both those who have been diagnosed with cancer and those around them affected by such a cruel disease.
Personally I lost my step-dad 5 years ago and, very recently, we lost a member of the TRISudbury team. Both were extremely inspiring and positive from the very day they were diagnosed. The strength to complete a triathlon is tiny compared to the strength they both had, Anne-Marie in particular always told any member of the team that they can do anything they want – she did, with a number of events and distances under her belt she impressed us all with her training and competing and ALWAYS with a big smile and encouragement to everyone around her.
So, I'll be training hard until the event so I can positively say I did my best in memory of Jon and Anne-Marie.